Safe Site Check In customer Peacock Construction participated in a Q&A with AEC Cafe on job site safety during the pandemic.
---

AECCafe Voice


Susan Smith
Susan Smith has worked as an editor and writer in the technology industry for over 16 years. As an editor she has been responsible for the launch of a number of technology trade publications, both in print and online. Currently, Susan is the Editor of GISCafe and AECCafe, as well as those sites' … Read More >
San Francisco Bay Area Construction Sites Check out Safe Site Check In for COVID-19 Safety
August 20th, 2020 by Susan Smith
According to start-up Safe Site Check In's recent press release, available now from Safe Site Check In, LLC, the "Safe Site Check In" app makes it easy for construction workers, subcontractors, facilities staff, property managers, inspectors, and realtors to streamline the job site check-in process.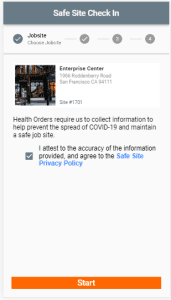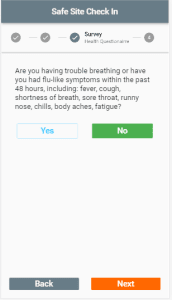 To use Safe Site Check In, employees and visitors point their smartphone at a unique QR code posted at the job site and answer COVID-19 health-related questions required by local health directives – no download required. They are denied or approved access to the construction site and receive a daily digital entry badge. Site supervisors and HR administrators can see the health status of all onsite employees and visitors and are immediately notified of potential health issues.
Employees and visitors do not have to worry about privacy issues as their added personal health information is stored on the user's smartphone, not by the construction company. This provides an added level of privacy while eliminating the risks and costs of HIPAA compliance and local data privacy laws.
"We're successfully using Safe Site Check In at 43 construction sites throughout the San Francisco Bay Area. Approximately 200 people per day use it, allowing us to do our part for employees, clients and the community to help stop the spread of COVID-19," said Kyle Peacock, CEO, Peacock Construction. "The app has also boosted productivity, saving up to two hours per site, per day, as employees safely return to work."
The construction industry represents 6.3 percent of the GDP and employs more than 11 million people in the U.S. Yet many construction firms have outdated and time consuming processes for job site check-in, certainly not conducive to safety in the Covid era.
These include paper-based forms and shared tablets that don't allow for social distancing, are risky to handle and time consuming to enforce. Enterprise suite solutions are complex and expensive and cannot quickly address the reopening needs of small to medium-sized businesses. Safe Site Check In is simple to use and has broad applicability across a variety of industries as businesses and consumers work together to ensure public health and safety while protecting private health information.
Safe Site Check In is available immediately and promotionally priced at U.S. $2.00 per day, per construction site, for an unlimited number of employee and visitor check-ins.
SafeSiteCheckIn.com is a San Francisco-based app development firm with expertise in mobile and cloud engineering to improve safety and productivity at work while protecting personal health data. Safe Site Check In is available for iOS and Android phones, tablets and any browser. Built using Google Cloud for continuous availability, speed, reliability, and security.
Kyle Peacock, CEO, Peacock Construction answered some questions for AECCafe Voice.
How is health information gathered?
Personal health information is gathered survey-fashion on the visitor's phone. Only "approved or denied access to a job site" is uploaded to the Safe Site platform.
If the personal health information is stored on the user's smartphone and not by the construction company, how is the construction company able to track the reasons for employees' absence should they not be able to come to work?
Access denial is communicated via an instant text message and email to HR and Supervisors for a confidential conversation.
Are there protocols such as social distancing that are employed also at construction firms using this app?
Health directives in the Bay Area require social distancing and our survey makes sure workers and visitors are aware. Additionally, we practice social distancing, staggering the trades to reduce density in a given area, regular site cleaning, no tool sharing, and regular hand washing/hand sanitization.
What types of applications did Safe Site Check need to include in their app in order to address the needs of public health and safety for employees in the Covid era?
Automate record keeping: Reopening small and medium size businesses requires a safe, easy, and efficient app to collect site visitor records.
Automate notifications: Businesses need immediate notification by multiple methods of any site denials.
Client services: General contractors need to advise their clients who visited their sites and if any denials occurred.
Combine with more direct health measurements: Supervisors need to report visitor illness either from temperature taking or other observations.
Reduce Liability: Businesses need protection from liability arising from worker health concerns of sharing forms/tablets, poor record keeping resulting in site closure by inspectors, and unauthorized dissemination of personal health information.
A simple interface so anyone can use it immediately
How are employees and visitors responding to Safe Site Check in so far?
So far, Safe Site Check In has been rolled out to 45 sites in the Bay Area. Employees and subcontractors find it's much easier to check into a job site. Some additional benefits are:
Time savings: Per day = 1 hour of Peacock Construction's time and 1 hour of trade labor
Less stress for the site supervisor and/or COVID-19 supervisor
Visitors feel safer because the app is touchless
Peacock Construction enjoys not having everyone's daily medical records on file