Academic studies and local health authorities find more outbreaks in construction than commonly thought.|Read original story on Construction Dive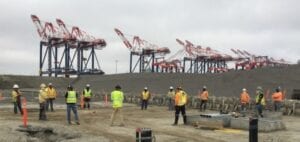 Conventional wisdom suggests construction has done relatively well combating the spread of COVID-19 on U.S. jobsites.
While there have been outbreaks at high-profile projects such as Allegiant Stadium in Las Vegas and as many as 13 San Francisco Bay Area jobsites, the industry as a whole hasn't drawn attention for the debilitating scourges that have made news in healthcare, nursing homes and the meatpacking industry.
"Our industry has not suffered the kind of widespread workplace outbreaks that have hobbled so many other sectors of the economy," wrote Stephen Sandherr, CEO of the Associated General Contractors trade association in a letter to members earlier this month, encouraging firms to stay vigilant against COVID-19 amid a recent surge of more than 160,000 new daily cases across the country.
But now, academic studies, an increasing amount of local public health data and anecdotal media reports are calling into question construction's clean bill of health on COVID-19 mitigation. Consider:
Conflicting views
These data points contradict the widely held belief that the mitigation steps of screening, personal protective equipment and social distancing practices on jobsites have been effective in curbing workplace spread of the novel coronavirus in the construction industry.
They also bring into question, given the lack of a national data clearinghouse of COVID-19 infections by occupation in the U.S., whether the construction industry, which has been deemed essential in most states and continued working, has done as well as it thinks it has in preventing workplace spread.
"Outbreaks in construction sites may be very common," said David Bui, epidemic intelligence service officer at the Centers for Disease Control and co-author of the study that found construction sites in Utah had the highest number of workplace outbreaks behind manufacturing. "Capturing data on workplace outbreaks has been challenging for a lot of health departments, so national level data is not available."
"Our industry once again finds itself a simple stroke of the pen away from being forced to stop work." Stephen Sandherr, CEO, Associated General Contractors of America
The collective numbers have also emerged at a time when several states are walking back re-openings and even shutting down certain business sectors again as cases soar. Three states — Virginia, Michigan and Oregon — have implemented emergency rules in response to the pandemic, including protocols for screening of employees and visitors, physical distancing measures and the use of masks and face shields.
The AGC's Nov. 3 letter to its members urging continued diligence against COVID-19 was motivated by a concern of the initial worksite lockdowns of March returning to the sector.
"Unfortunately, the number of confirmed cases has begun to grow at an alarming rate in many parts of the country," Sandherr wrote in the letter. "It is safe to assume that any number of state and local officials will come under significant pressure to impose comparable new lockdown measures here during the next several weeks and months. In other words, our industry once again finds itself a simple stroke of the pen away from being forced to stop work."
No national data
Part of the problem, multiple experts contacted for this article said, is that there is no single source for tracking COVID-19 infections across the construction industry on a national level. While the Occupational Safety and Health Administration tracks positive cases in the workplace via its Form 300 Log of Work-Related Injuries and Illnesses, those are only tabulated annually.