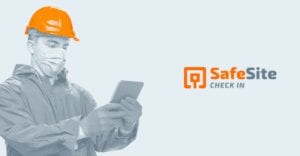 Historically, it has been pretty difficult to track who enters a construction site or building and when, which can pose a safety and health risk to your jobsite, especially during a global pandemic. Paper check in forms are ineffective and hard to track and other systems, like key card entry, require high up-front costs and hardware purchases.
Guests and workers checking into the site are not required to download an app or create an account, and their personal health information is stored only on their device to comply with HIPAA and OSHA regulations. The app is available in both English and Spanish, but can also be customized to support other languages, if needed.
Site managers can access check-in logs across multiple sites, receive instant notifications when visitors are granted or denied access, and view reporting dashboards from their account of Safe Site Check In. Administrators can also customize the screening questions for each individual site in order to comply with all state and local requirements.
Although Safe Site Check In was released in June of 2020 with the pandemic in mind, the benefits extend beyond health screenings and contact tracing. The company told me that many of their clients, which extend from construction to residential and commercial to real estate, plan to use the system after a vaccine becomes widely available.
Having a digital record of who enters your jobsite can help in the tracking of attendance, productivity, workers compensation claims, union dues, security, and profitability, not to mention making daily log reporting easier.
One of the things that I most appreciate about Safe Site Check In is that they don't over complicate the cost of the system and it's extremely affordable. For each site, the system costs $79 per month for unlimited users and no need to purchase any additional equipment.
To see how simple and easy Safe Site Check In is to use, check out their demo video below: