The Data to Make Construction Jobsites More Productive and Safer
Automate daily logs with our digital check in tool. You've got better things to do on site than data entry.
Safe Site Check In develops advanced QR-code check-in, data and analytics to make construction jobsite management easier.
Automates the worker check-in process to provide contractors with the data that increases productivity and profits. To view all the feature videos, click here.
Using Safe Site Check In, general contractors have:
Accountability: for every person and activity entering the jobsite
Automation: of the daily construction log
Awareness: of the jobsite safety conditions
Accessibility: to reach everybody on the jobsite through text or email
Every time a worker, subcontractor or visitor enters a jobsite, there's a risk of an accident, project delay or safety violation. Whereas everybody on a construction jobsite is responsible for the safety and performance of a project, accountability and liability is the responsibility of the general contractor or project owner.
Consequently, one of the biggest risks – and the one that's the easiest to fix – is knowing who is on a construction jobsite, when, how long, and what they're doing there.
Given that this information is traditionally collected using sign in sheets, visitor log books, apps for employees only, apps used by subcontractors, and sometimes just relying on a supervisor's memory, rarely are these data entry forms aggregated or cross-referenced. Accordingly, this makes it impossible to record everybody and everything that happened on the construction jobsite. Not surprisingly, when it's time to submit the daily log to project, safety and risk managers, the data is incomplete. Unless it's keyed into spreadsheets or enterprise software, creating a daily log can take hours every day.
Reduce Construction Management Risks
To properly manage jobsite work and its associated risks, it's important to know who is on the jobsite today. Who was there yesterday? Last month or even last year? Consequently, having that data at your fingertips is critical for project planning, worker and subcontractor oversight, and dispute resolution that can occur months or years later. When general contractors use Safe Site Check In, they undoubtedly reduce risk by having:
Accurate, complete and timely data for digital record keeping, the daily log, project management updates, and compliance reports
Improved worker safety and safety process management
An easier way to measure productivity productivity and continuous construction jobsite management improvement
Recordkeeping for all stakeholders, including project owners
Compliance to local, state and federal requirements
Real time data available for HQ and field operations
More accurate estimating of future projects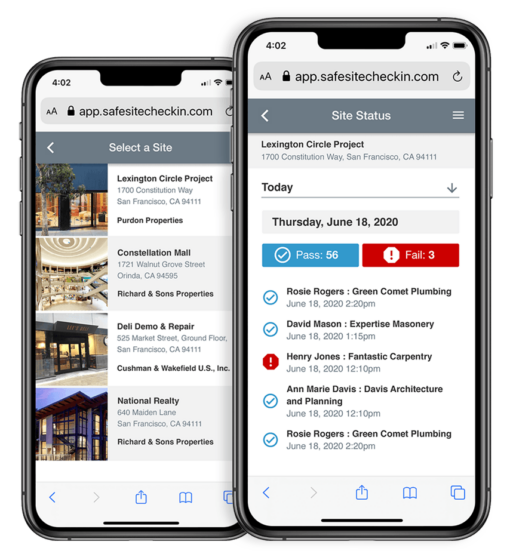 Safe Site Check In is a Procore and Autodesk Build Partner
Paper based daily logs filed away in a cabinet back in the HQ office create time consuming and unnecessary work. Subsequently, finding the important data points can take days, if not weeks. And, comparatively, scribbled sign-in sheets and construction daily log books aren't nearly as accurate as a construction digital check in app that also automates the daily log.
Safe Site Check In makes it easy to automate the daily log process, eliminates unnecessary paperwork and creates secure digital records of who was on a construction jobsite, when they arrived and left, and their activities.
Find us on the Procore Marketplace >>
Find us on the Autodesk Marketplace >>
"I can control fast-changing screening and safety verification requirements easily from anywhere saving me a lot of time.
Safe Site Check In was able to use one platform across all of our states, and it's all ADA and HIPAA compliant. I don't have to worry about people's medical records getting into the wrong hands.
Employees scan the QR code, answer questions, and know if they have access or not."
Rod Courtney
Health, Safety & Environmental Manager, Ampirical
Improve Construction Jobsite Safety
Digital check in contributes to safer jobsites.
Entry to the jobsite is the best time to advise workers and visitors of safety issues, i.e., weather, heat, or changes to jobsite conditions such as trenches, newly enclosed work spaces, access limitations, or the presence of visitors. Conversely, when incidents or accidents occur, essential daily log data is immediately available to aid in investigations and mitigations.
It's also an ideal time for workers to update their safety certifications, licenses or training history.
Simultaneously, many jobsites still require health screening and vaccination verification. As general contractors learned during the height of the pandemic, digital sign in offers significant benefits for faster, secure health screenings and verifications. It also makes it easier to know who is onsite and instantly reach them.
With digital check in, construction general contractors always know who's on a jobsite and can quickly communicate with them with important information concerning jobsite conditions such as weather, incidents, owner complaints, new risks for falls or enclosed spaces, etc.
Consequently, using outdated paper processes to manage who is onsite and the daily log leads to inconsistent record keeping, human error keying in written information into spreadsheets, and relying on one person's memory to recall what happened. These are all avoidable jobsite risks that are eliminated using Safe Site Check In. When workers and visitors check in using their mobile device, the data is secure and immediately flows into the daily log.
Increase Profitability of Each Construction Project
The more you use Safe Site Check In to manage who is on site and automate the daily log for construction, the more productive and profitable each job becomes. Therefore, saving hours previously spent signing in and filling out forms leaves more time for getting the job done.
Keep Worker and Construction Jobsite Data Private and Safe
Lastly, the personally identifiable information (PII) that goes into construction daily logs should remain private within a contractor's business. Safe Site Check In prioritizes information security and privacy including personal health information. Furthermore, all Safe Site Check In data is encrypted, access controlled, securely and permanently stored for exclusive use by our customers.
Construction general contractors use Safe Site Check In for:
Insight: on every worker and subcontractor including skills, certifications training, and previous projects.
Information: who was present, observations of jobsite conditions or owner requests.
Intelligence: easy to use yet powerful data and analytics let you know if projects are on track.
Investigations: of accidents, incidents, worker and subcontractor disputes
Integration: with project management platforms like Procore and CMiC for a complete picture of each project, person and activity on a construction jobsite.