Construction Workforce Management
Lower the cost of construction workforce management with data that improves the efficiency, security and safety of every manager, worker, and subcontractor.
Minimize the Impact of the Construction Labor Shortage
According to the Associated General Contractors of America (AGC), 89% of general contractors are having a difficult time finding qualified workers to hire. Based on data from the U.S. Bureau of Labor Statistics, the construction labor shortage will continue to increase as more than 500,000 job openings remain unfilled.
Adding to the construction labor shortage are rising costs for building. This is due to inflation and supply chain issues, as well as increasing demand for construction resulting from significant federal spending on infrastructure.
Our digital check in technology can't create experienced construction professionals. What Safe Site Check In can do is capture the data that enables greater efficiency and productivity from every manager, worker and subcontractor. We help lower the cost of construction.
Creating experienced trade laborers is hard enough, five years to journeyman status. But it can take a decade to gather all the experience required to manage the people, tools and relationships at a jobsite. Experienced project managers and supervisors are the biggest labor crunch of all. To make the most of their expertise, contractors need to equip them with the tools that make their job easier.
Using Safe Site Check In for workforce management, jobsite supervisors can:
Capture worker profile information including skills, certifications, training and licenses.
Workers input this data into our easy to use webapp, data which supervisors can easily edit.
Using reports and searches, supervisors match worker profiles with jobsite requirements for planning, staffing and safety management.
Every worker's check in data is permanently and securely stored so you know what projects they've worked on.
Using Worker Profile Data for Jobsite Workforce Management
Safe Site Check In collects the critical workforce data and skill profiles that managers need. Workers enter the data themselves, relieving managers of time consuming input and updates. And our digital check in's capture their project work history automatically, allowing for better staffing and safety management, while automating the daily manpower logs.
Worker profiles can include:
Validated phone numbers and email addresses for better workforce notifications, communications and broadcasts.
Licenses to operate vehicles and equipment
Certifications such as OSHA and other safety credentials
Training history, certificates and coursework
Apprenticeship skills acquired
Citizenship or legal work documentation
Supervisors can now communicate with workers on the jobsite using a number of channels and no longer just face to face. Worker skill profile data also enables better workforce development.Training histories are now in digital form, not in spreadsheets or left to memory. Managers can better support the career growth of apprentices and journeymen. Worker retention is most essential in times of labor shortages, and profile data gives managers another tool to keep and improve their workforce.
Worker profile data also enhances jobsite safety. Jobsite and safety managers can assure that tools and equipment are operated by qualified workers. They can also communicate changing jobsite safety conditions, such as weather or heat risks, or emerging trench or fall risks. Tool talk attendance can be automated, eliminating even more manual recordkeeping. Safety data sheets can be available in digital form for access by all jobsite personnel. And jobsite entry is the best time to remind workers of good safety practices and habits, including onboarding videos for first time arrivals.
Capturing Worker Profile Data Benefits Workers Too
Documenting a worker's skills is easy and only takes a few minutes with Safe Site Check In. The benefits are not just for an employer, but for workers too. Combined with the automatic capture of a worker's project activities, a complete tradesman resume and curriculum vitae is created.
And all this data is now portable in the worker's phone. Workers can use this data to advance their construction career when new project opportunities arise. The construction trades do not have a professional network like LinkedIn. Safe Site Check In fills a huge need by capturing worker profiles for use by both employers and themselves. Advancing anyone's career today requires good data, even if you are not a manager or office worker.
Having profile information readily available to show any jobsite manager is hugely beneficial. The manager gets the data needed to make an immediate decision without having to call for confirmation by HR or others. The workers build personal credibility and value to their employer, even when the worker is employed by a subcontractor.
Workers are also more empowered by their ability to capture images and observational notes at a jobsite. And by receiving more real-time notifications from safety managers, they become more responsible for their own health and safety on the job.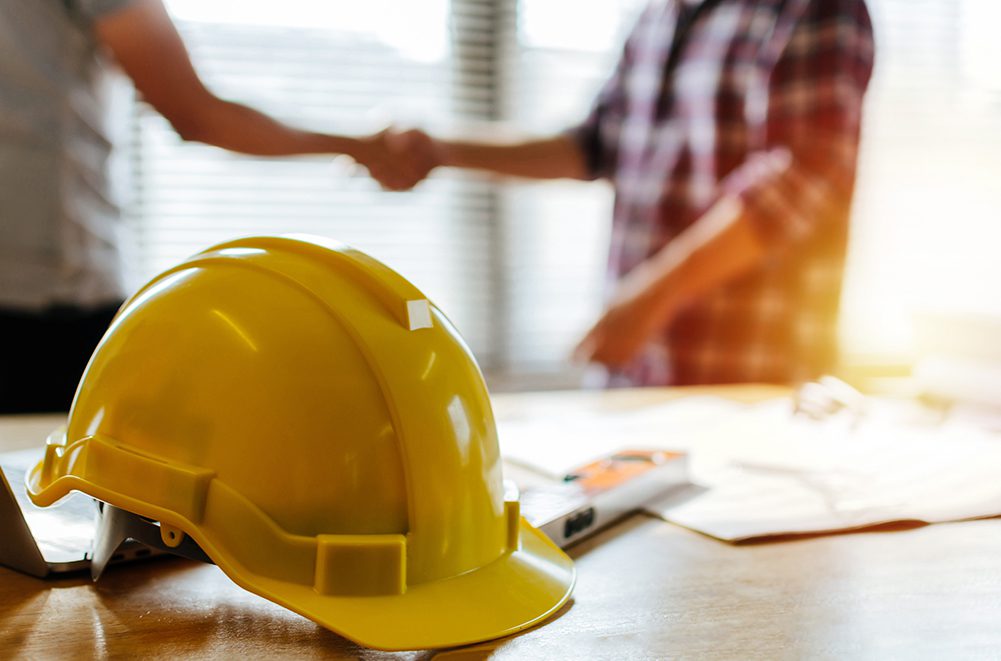 "The construction trades do not have a professional network like LinkedIn.
Safe Site Check In fills a huge need by capturing worker profiles for use by both employers and themselves."
Jobsite Workforce Management Using Digital Check In Data
Nothing is more fundamental to jobsite management than knowing who, what, where, when, why and how long resources were on a jobsite.
Enforcing safety protocols during check in also keeps workers, subcontractors and visitors safer. It also protects the general contractor and their client, keeping projects on track and on budget.
For example, first time jobsite arrivals can be onboarded automatically and directed to a designated manager. They can also be required to view safety videos or agree to legal or compliance forms. Everybody gets to work faster and more effectively.
Having a secure and dedicated QR code for workers to check in and out of a jobsite makes it easy for supervisors and project managers to:
Always know who is or was on a jobsite
Eliminate time consuming, hard-to-read and easy-to-lose paper sign in sheets
Quickly store and easily access digital check in records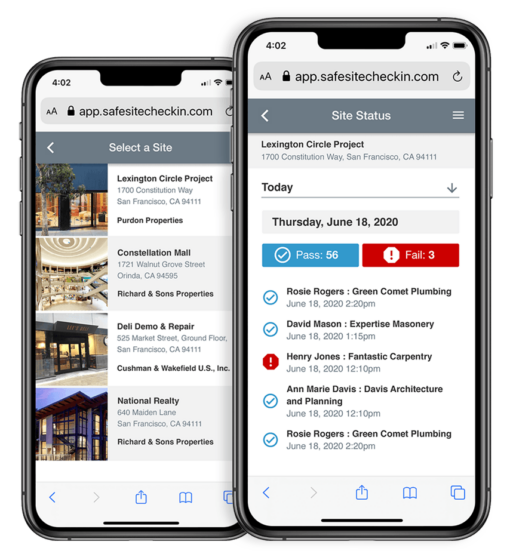 Site supervisors and general contractors must account for everybody on a jobsite. They must also make sure safety protocols are understood and followed. When they know where everybody is, and each worker's skills and experience, they can:
Identify and address gaps in safety training
Ensure every worker's safety certifications are up to date
Verify and validate safety records for compliance
Safe Site Check In lowers the risk of accidents on jobsites and improves overall site safety.
Enforcing safety protocols keeps workers, subcontractors and visitors safer. It also protects the general contractor and their client, keeping projects on track and on budget.
General contractors use Safe Site Check In's worker profile data to mitigate safety risks by:
Securely and immediately sending safety updates and alerts to the field
Verifying digital check in data from workers and subcontractors
Capturing digital signatures confirming workers have read and understand jobsite requirements, watched training videos, attended safety talks, and agree to additional waivers or compliance forms required by a client
Qualify workers for tool and equipment operation
To further mitigate legal risks, general contractors can customize the questions workers, subcontractors and visitors are asked on the jobsite. They can also view and audit the responses while always having a secure digital record in the event of an incident or investigation.