Frequently Asked Questions
What is Safe Site Check In?
Use the Safe Site Check In to  Make Jobsite Management Easy(tm). Automate worker onboarding badging and check-in to provide project & safety managers with the data that increases productivity, safety & profits. We are used across North America in multiple industries to process thousands of workers and visitors everyday.
When and why was Safe Site Check In founded?
The company was launched in June 2020 to address the growing need for a safe, secure way to check into work or public spaces using a smartphone and answering COVID-19 related health questions. The app grew to eliminate outdated processes such as paper-based check-in sheets and visitor logs or shared tablets. Most recently, our QR badging supports check-ins with or without a phone.
How does Safe Site Check In work?
To use Safe Site Check In, employees and visitors point their smartphone at a unique QR code posted at the jobsite. No download required. Screening questions optional. During onboarding, workers can receive a QR badge that can be scanned from their phone or paper printing. 
What are the benefits of using Safe Site Check In?
Automates paper based or manual data entry of worker and visitor attendance by jobsite supervisors. Captures screening questions and answers, or digital signatures of waivers or safety advisories. Automates visitor management. Data is immediately available to HQ and permanently, securely archived.
Is Safe Site Check In only for COVID-19?
No. The need for a streamlined check in process at work and public spaces has been long overdue for a technology makeover. Instead of old fashioned, public, paper-based sign-in sheets, Additionally, it provides facilities managers with real time awareness and emergency communications.
How long does it take to get Safe Site Check In up and running?
The initial site setup time is about 5 minutes. Company administrators can then add sites and create QR posters or badges also in minutes. Integrations with plattforms like Procore Technology takes about 30min.
Can I set up my own Safe Site Check In dedicated areas?
Yes. The Administrator functionality allows managers, supervisors, and other appointed staff to create their own check-in sites in minutes for faster, safer openings and reopenings of work areas and buildings. Provides greater control and visibility into the people on a job site or in a building.
How do pricing and payments work?
The Safe Site Check In (SSCI) app is billed as a monthly subscription. The price of a basic subscription is determined by the number of site licenses purchased at the rate of $109 per month per site. This model offers three distinct advantages.
You pay only for the number of work sites in any given month. You can opt to maintain  a subscription for zero licenses for those rare months when you don't have any work sites at all.
Our pricing is per site without any limits or restrictions on daily usage, number of workers or visitors. This makes it easy to scale up or down while making  cost estimating easy and predictable for any size project.
SSCI subscriptions renew monthly and include a data maintenance fee which is charged as long as we hold your daily log archive.
What's the difference between "sites" and "site licenses"?
Sites in the SSCI service represent physical work locations or job sites where access is managed through a check-in process. Sites may come and go as projects start and finish. For contractors, a site's duration depends on the start and end dates of a job at a particular location. For office sites, the duration depends on the lease terms or can be permanent.
Site Licenses are the number of locations where screening is required. Some locations may have just one area to screen at entry or more than one based on unique requirements for that location such as supply or equipment storage, etc. They can be also thought of as SSCI reusable capacity slots which are occupied by sites over time. For example, a site license can be used for one site whose job ends, and then used again for a new site whose job is just beginning. Media production or facility management companies, where time at job sites is short, might reuse the same site license multiple times in the same month.
Are site license subscriptions for whole months?
Site licenses are purchased in increments of one monthly subscription and they automatically renew. If you add a site license in the middle of a month, you are charged for the additional license. If you subtract a site license, your total license fee will be reduced on the following month's renewal date.
Site licenses purchased by credit card renew one month after the purchase date. Site licenses purchased via invoice renew at the beginning of every month.
Can site licenses become inactive?
Site Licenses can be active or inactive. As your business changes, SSCI administrators manage the total quantity of licenses to closely match your number of work sites. The SSCI administrator app makes it easy to increase or decrease your license total.
At times, it is normal to have more total license subscriptions than you have active work sites. Usually, this is because of delays in the start of job site work, and it is easier to have site licenses in reserve than to try and match total licenses to total sites every day.  Most SSCI customers estimate the number of site licenses needed for an entire month, and add to that number mid-month if business requires more.
Think of a site license as like a job site trailer – you can use it over and over for multiple jobs.
What if I pass SSCI charges to my customers?
Since SSCI is affordable, most customers include SSCI costs as a component of overhead and allocate them across all of their customer markups.
However, if you do pass through SSCI costs, the SSCI administrator app includes a Site Details List Report that makes it easy to find out which sites are currently active: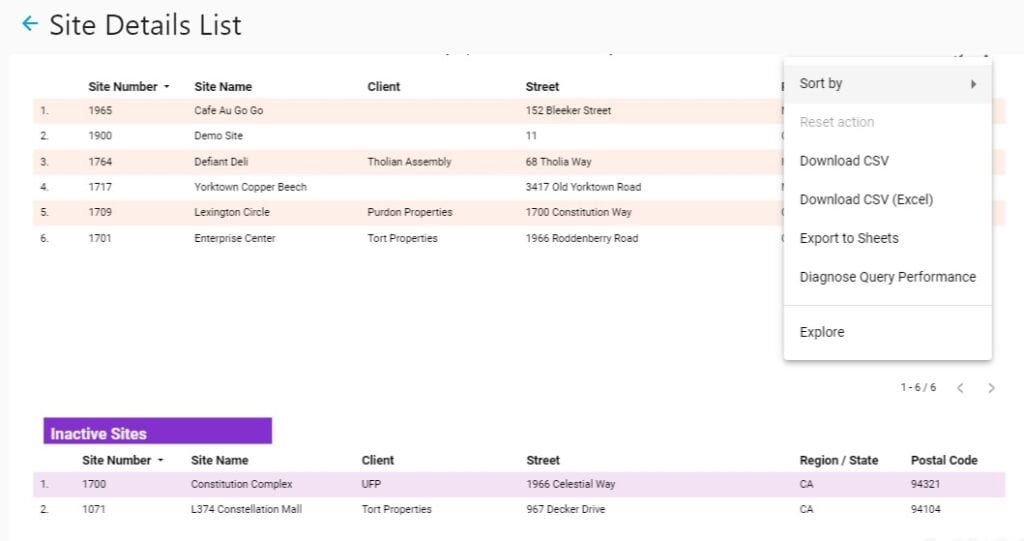 The list can be exported and shared with Accounts Payable to assign SSCI charges to individual jobs. Most companies will include a job or project code when they create sites for this reason.
How do I pay SSCI by credit card?
Purchasing SSCI licenses by credit card is most efficient and secure.  License subscriptions will be charged on the day of the initial purchase, and licenses will be auto-billed at their monthly renewal date, one month after purchase.
An added benefit of paying by credit card is that when you add additional site licenses during a billing cycle, the additional sites charged on the incremental purchase date are prorated to the number of days remaining in the current billing cycle.
A second benefit of paying by credit card is that you can self service the number of required licensed sites through the SSCI Admin feature, eliminating the need to work through our support team to make adjustments.
Example:
You set your account to pay by credit card on February 7:
Your credit card is autobilled for the monthly quantity of licensed sites on the 7th of every month, say for example 3 sites.
You can change the quantity of licensed sites through the Admin app at any time. When you add to the purchased quantity, say 1 additional license on February  21: your card is billed for the pro-rated number of days remaining in the current monthly billing cycle (until March 6), your card is then auto-billed on March 7 for 4 license sites.
When you reduce the number of purchased sites, your next month's auto-billing will reflect the adjusted quantity of licensed sites. Say on March 14, that you reduce the quantity of sites from 4 to a count of 3, on April 7 your card is auto-billed for 3 sites. Note, you do not receive refunds for reducing your licensed sites because the licenses are for a monthly subscription.
Credit card charges require the least amount of handling by our customer's accounts payable staff compared to issuing checks or ACH transactions. Credit cards have a number of protections built-in, such as the ability to dispute charges or effect refunds, accumulate points, etc.
SSCI does not capture or store credit card information. Instead, SSCI uses a credit card service that has the most extensive security protections over card numbers and business information.
How do I pay SSCI by invoice?
Some SSCI customers will want to be invoiced for site licenses. Because this method is more labor intensive, we charge a convenience fee for invoicing.
SSCI issues invoices for subscription renewals at the beginning of a month. The number of licenses includes the current active count, plus additions that were requested during the prior month.
Site licenses added during a prior month are billed at the full month's subscription rate to cover the cost of manually adjusting licenses, versus the benefit of prorated additions when you pay via credit card.
Example:
Invoice billing always occurs on the first day of the month. You are invoiced for the number of licensed sites as of the first day of the month.
Say you have 3 licensed sites on February 1.
On February 8, you request an additional licensed site. Our support team modifies the app accordingly. When receiving your March 1 invoice, you are charged for 4 sites to cover the month of March, plus you are also billed in arrears for the site that you added on February 8.
On March 14, you request the quantity of licensed sites to be lowered from 4 to a count of 3. Our support team modifies the app accordingly. On April 1, you will be invoiced for 3 licensed sites.
Our standard terms and conditions specify net-ten payment terms, but SSCI will not consider your payments late until you are more than 30 days overdue. Please note the mailing address for depositing your cheques included on your invoice, it is different from our office and mailing address.
Where can I find authoritative answers to legal issues regarding pandemic response?
How do you do contact tracing?
In the event of COVID-19 transmission at a location that uses Safe Site Check In, we are able to use personally identifiable information (PII) to help employers inform others that they might have been exposed to the virus. However, the employee's name is not disclosed and Safe Site Check In does not have access to their personal health information (PHI).
Who keeps track of a user's personal health information?
That information remains on the visitor's phone and Safe Site Check In's cloud service does not share nor store it.
What happens if an employee or visitor is denied access?
The site supervisor and/or HR is immediately notified via text.
How do you determine which health questions to ask?
They are based on federal and local guidelines specific to COVID-19, and can be customized by the employer based on OSHA, state and local health directives, or employer-specific business requirements.
Who sees the information on employees that are admitted or denied access to work?
The company determines who has access to visitor logs. Most site log viewing is, typically, limited to supervisors and HR, but a company can designate anyone they choose. Viewers do not have access to specific health information answers; they are notified only when an employee or site visitor was denied site access.
How does Safe Site Check In support HIPAA compliance and the risk of viewing health data?
By not storing personal health information. Personal health information (PHI) remains on the user's phone as they answer survey questions. Safe Site Check In's cloud service does not store or have access to PHI.
What if we must take a visitor's temperature?
Have all visitors use Safe Site Check In first. Then assign a site entry supervisor to take temperatures using a skin thermometer. If a visitor measures over 100.4 degrees, the supervisor should deny the visitor entry. If contact tracing by public health authorities is necessary, Safe Site Check In will have all required information.
Does Safe Site Check In allow customers to change the questions?
Yes, Safe Site Check In will customize the questions based on state guidelines, your business protocols, or other best practices.
Do employees and visitors log on to the Safe Site Check In website?
No. They access Safe Site Check In using their mobile camera phone pointed at a unique QR code at the job site or inside the building. Alternatively, they use a personal QR code badge on their phone or printed out for scanning at the site, just like boarding an airplane.
What languages does Safe Site Check In support?
Safe Site Check In is currently available in English and Spanish and can be customized to support other languages.
What if my phone has problems scanning the QR Code?
First, make sure your phone settings are turned on to read QR codes. There is a "QR Code Reader" line on the Android settings. On an iPhone, Go to Settings > Control Center > Customize Controls, then tap next to QR Code Reader. Then, Open Control Center, tap the QR code reader, and position your iPhone so that the code appears on the screen.
Also, always use the camera on your smartphone. Some smartphone models don't scan from the camera, in this case, use the Google Lens app. Avoid using other QR Reader apps, as they may have issues working properly with the check in pages. Safe Site Check In provides special instruction posters for visitors with phone issues.
Which browsers work with the App.safesitecheckin.com Supervisor application?
The application has been tested with the latest Chrome, Firefox, Edge, and Safari Browsers. Microsoft Internet Explorer is not supported. Do not use the browser in Incognito or Privacy mode, as this may cause problems with pages rendering properly.