Start a free trial and launch a site in minutes
Easy
The platform instantly creates a poster with a unique QR code, your company logo, address and check-in instructions for each site.
Ready
Download, print, and post the QR code poster at the entrance to your site and immediately start screening visitors and employees.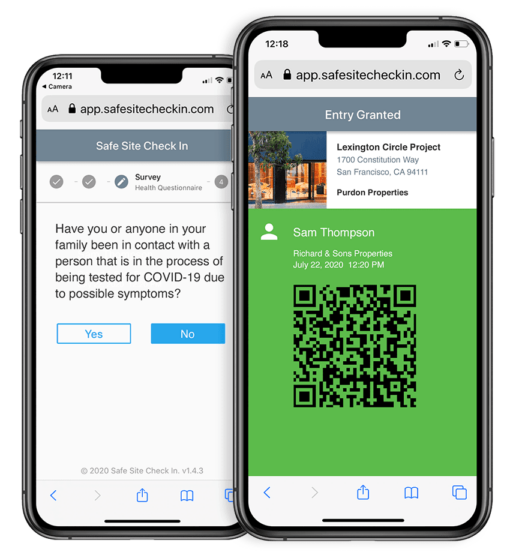 Visitors scan QR Code with their phone camera to check-in
Questions
Along with their contact info, visitors answer a series of customizable screening questions.
Evaluation
Safe Site Check In evaluates visitor's responses.
Access
Visitors who are granted access are issued an electronic badge – their own verifiable QR code.
Storage
Visitor personal health information is only stored on their device.
Easily manage multiple locations, check-in logs, dashboards, and more
Notifications
As visitors are granted or denied access, managers are instantly notified.
Monitor
Easily monitor check-ins at multiple locations and view visitor logs.
Verify
A visitor's access can always be verified
Reporting
Site administrators have access to varius reports for unique needs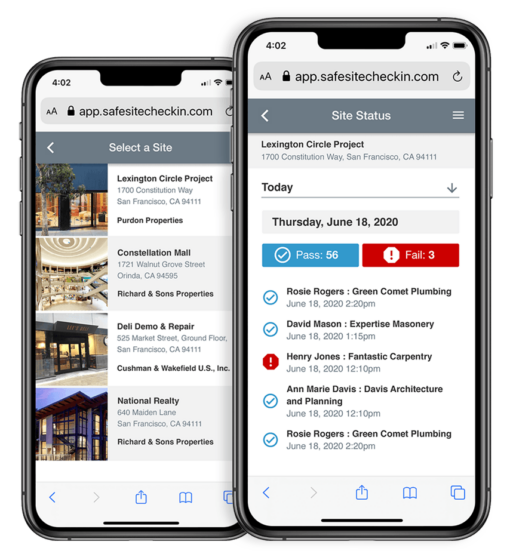 Quick and Simple Check-In Process that is Easy for Everyone

Ease of Use
Deploys in less than 5 minutes with no training, apps, or software to install

Privacy & Security
HIPAA and PCI Compliant with strong security using the Google Cloud Platform

Multi-Language
User preferences that allow navigation of the tool in either English or Spanish

Customizable
Configured for each site or tenant with unique requirements and no user limits

Real-Time Notifications
Shares who is on-site, when, how long, and with what company in just minutes

Rich Analytics
Improves managers' business operations with real-time, reliable data reporting
Check out our new features such as Analytics, Configurable Host Notifications, Contact Info Settings, and more in our latest release
Get Started with Safe Site Check In
$99/month satisfaction guaranteed