Ready in less than 5 minutes
STEP 1
Set up your site in less time than it takes to finish a cup of coffee
After you sign up, you can configure our first site immediately.
The platform instantly creates a custom poster with a unique QR code, your company's logo, address and check-in instructions for each site you create.
Download, print, and post the QR code poster at the entrance to your business and immediately start screening visitors and employees.
STEP 2
Visitors scan QR Code using their mobile phone camera to check-in
Along with their contact info, visitors answer a series of customizable screening questions.
Safe Site Check In evaluates visitor's responses.
Visitors who are granted access are issued an "electronic badge"- their own verifiable QR code.
Visitor personal health information is only stored on their device.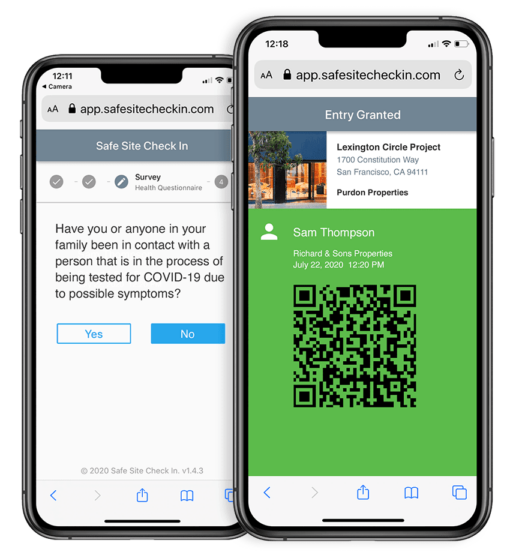 STEP 3
Easily manage multiple locations, check-in logs, dashboards, and more 
As visitors are granted or denied access, managers are instantly notified.
Easily monitor check-ins at multiple locations and view visitor logs.
A site visitor's check-in can always be verified by aiming their smart phone camera at the visitor's "electronic badge"
Site administrators have reporting options for special needs customers (e.g., hospitals, contact tracing, etc.).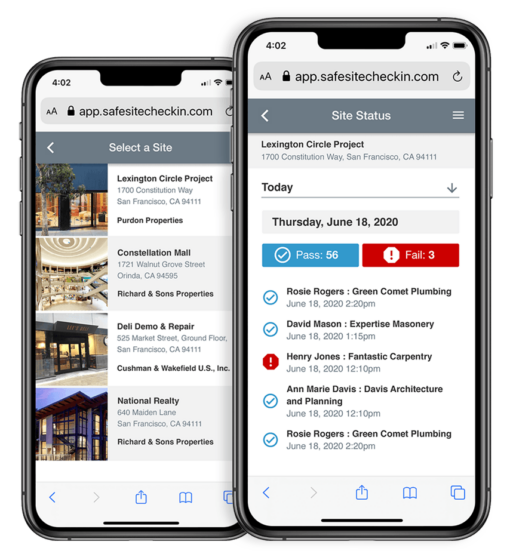 1
Open the camera app on your smartphone.
2
Point your phone at the QR code shown here.
3
Receive prompt and start the check-in process.

Quick & Private Screening
Workers & visitors answer screening questions in seconds after pointing smartphone camera at a QR code.

Protects Personal Health Information
Safe Site Check In does not store any personal information and complies with all security standards.

Multi-Language 
The app seamlessly transitions between English and Spanish at any point in the check-in process.

Configurable Questions
All health survey questions can be customized for each site to comply with local laws and mandates.

Automatic Alerts
The app notifies admins and managers upon visitor sign-in and if they should not be on site that day.

Easy reporting and analytics
Eliminate paper, spreadsheets and track visitor history with rich data and interactive dashboards
Get Started with Safe Site Check In
With a 30-day money back guarantee
Or call us at (888) 662-1999