Construction Digital Strategy Consulting for Future Efficiencies and Productivity
Digital Transformation Requires Technical, Organizational and Cultural Change
Our Consultants Help Accelerate Needed Productivity and Efficiency Gains
In construction, field data contains critical information that impacts the profitability of every job. Yet too often headquarter teams don't have ready access to that data. This creates missed opportunities for increasing efficiency and labor productivity.
Safe Site Check bridges the gap between a construction firm's missing digital expertise and the need to maximize productivity. Our professional services team untangles complex technologies to unlock the full potential of a company's digital transformation. We help construction firms:
Maximize return on existing investments in technology
Increase labor productivity without worker burnout
Streamline site access and safety protocols
Enable more efficient accounting, payroll and HR processes
Reduce overall risk, claims and losses
Strengthen relationships among customers, project owners and partners
Safe Site Check In's professional services consultants have decades of technology industry experience to help your organization overcome innovation challenges, disrupt business models, create efficiencies, and enhance work site experience.
We are committed to continuous discussions with construction industry executives and related sectors to fully understand the technology and skill gaps in their organizations.
Our professional services engagements are sized to fit your firm and budget. Contact our sales team to discuss your requirements.
Consulting Service Offers
Field Operations Innovation Assessment & Planning
Innovation in the field requires a collaborative approach among field leaders and multiple department heads. We help you find, assess, organize and prepare the influencers and stakeholders within your organization who will make the decisions that accelerate change.
Field Operations Technology Stack Assessment
The rise of apps and low cost technology solutions can lead to a bloated, inefficient portfolio that complicates field management and keeps field data inaccessible. We help you inventory, classify, and analyze your portfolio for less cost, complexity, and reduce shadow IT.
Field Operations Architecture and Roadmap
We create a technical architecture specific to your firm to use as a blueprint that you can use to guide investment, procurement, operations and technology lifecycle planning with an emphasis on cloud and information security.
Field Operations Integration Development Services
Our Smart Site Solutions™ integrate in minutes with Procore to automate daily log acquisition. Our site QR codes match your Procore project ids, and your workers can select locations and subcontractors easily during check-in/out. Supervisors save hours per day. If your CMS could use these features, talk to us for a custom solution.
Professional Services Leadership
Nate Fuller, Innovation Consulting
Over ten years construction field management and consulting
Tom Tortolani, Integration Projects
Over thirty years of enterprise software products and data
Adam Barry, Technology
Master of today's cloud, mobile, distributed, secure software
David Ward, Service Management
Technology executive consulting and development services
Our professional services engagements are sized to fit your firm and budget.
Contact our sales team to discuss your requirements.
Customers Love Safe Site Check In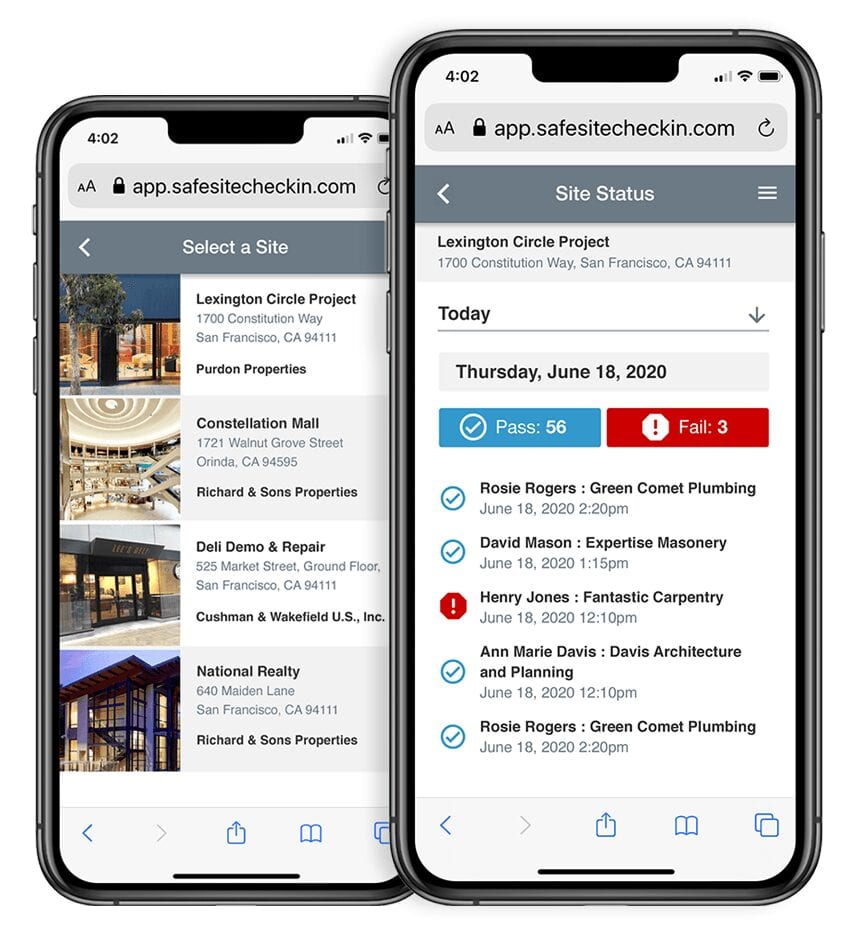 "I can control fast-changing screening and safety verification requirements easily from anywhere saving me a lot of time.
Safe Site Check In was able to use one platform across all of our states, and it's all ADA and HIPAA compliant. I don't have to worry about people's medical records getting into the wrong hands.
Employees scan the QR code, answer questions, and know if they have access or not."
Rod Courtney
Health, Safety & Environmental Manager, Ampirical
Digitize Paperwork and Unleash Data
Increase Efficiency and Improve Business Operations