Daily Log Reports for Jobsite Management
Daily log reports from Safe Site Check In improve jobsite management for greater profit and safety.
Great jobsite management combines collaboration and useful data. Forget paper forms for daily log reporting. Because even the most organized team will have trouble creating, storing, filing, sharing and searching paper forms. Leading construction, hard hat and safety conscious firms all use our digital check in technology.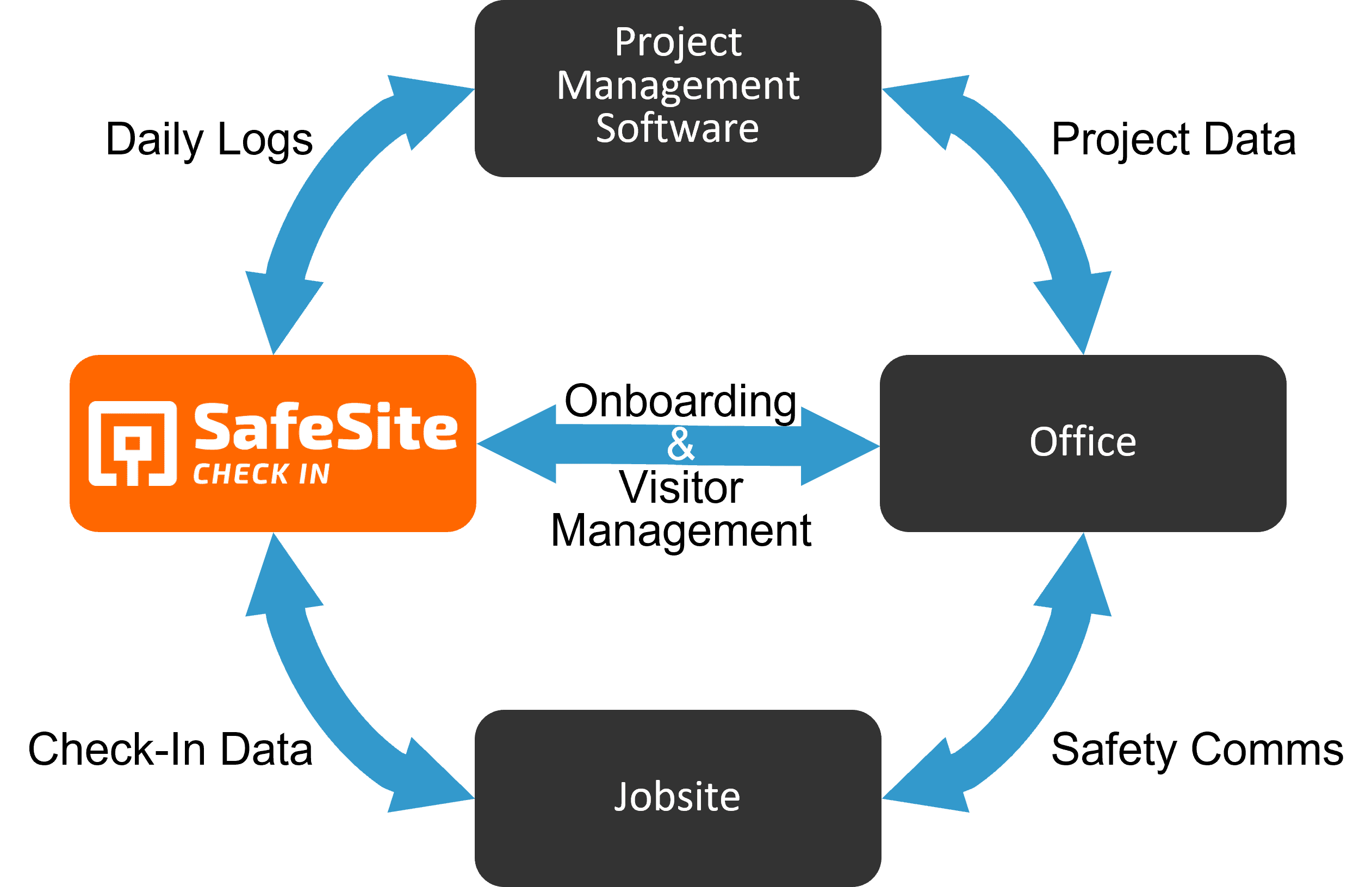 Safe Site Check In's software is designed for modern workplaces. Check in and out quick and easy using any device by workers and visitors. Provides jobsite supervisors real-time visibility plus secure recordkeeping.
Jobsite Digital Transformation Begins With
Daily Log Report Data
Safe Site Check In automates daily log reports for all jobsite workers and visitors. We make it easy to manage your jobsites and create permanent attendance records.
How It Works On The Jobsite
Your jobsite or workplace visitors and staff check by scanning the QR code poster using any smartphone.
Once they scan, first time arrivals provide their identify data.
Visitors can be presented with a liability waiver or safety training video.
Next they answer questions you customize for your site's specific needs.
Selected answers can result in supervisor alerts (new hire, Covid exposure, etc.).
A check in results in a unique green or red QR confirmation code.
Questions and answers are securely cloud stored for compliance.
Geographical verification makes sure everyone is located where they claim.
Jobsite QR check in signs are easy to set up and deploy into any workplace. With our extensive configuration options, you can adjust a site's check in for only the features needed.
Many Industries Need Daily Log Reports
Our construction daily log reports and data are essential to your existing software investments.
Supervisors in hard-hat jobsites in utilities, manufacturing and distribution also use our construction and maintenance daily reports.
Any safety conscious workplace can use Safe Site Check In as well:
assisted living, healthcare clinics, event venues, media production and hybrid offices.
How Daily Log Report Data Boosts Productivity Across Your Firm
Paper based processes are inefficient and don't produce actionable data. Whenever daily report data is required, Safe Site Check In saves you hundreds of dollars every day.
Safe Site Check In is a leader in jobsite management using digital technology. Daily log report data benefits not only supervisors, project managers, and safety managers, but also HR, Accounting, and especially Compliance.
Daily Reports for Compliance
Can you confirm everyone followed safety and compliance protocols while entering the site? Accurate attendance data – who is where, when, what, how long – is fundamental to any jobsite safety, risk or compliance process.
Safe Site Check In creates a permanent, secure, encrypted, cloud stored compliance record for every check in – who checked in and the questions they answered.
When you can account for all of your workers and verified guests, it reduces jobsite incidents and claim costs of all types. Real-Time Data
Real time data allows project managers and supervisors to track attendance and communicate to those onsite. Workers can send observational photos and notes. Managers overseeing multiple jobsites save travel time while keeping their projects on track.
Daily Reports Update Project Management
Stop pestering supervisors with "what happened today" questions. Digital daily manpower and observation reports provide project managers the data needed to update actual vs plan. And when integrated directly with project management software like Procore, productivity both in the field and at headquarters increases.
HQ Needs Daily Log Reports
Unlike data that is stored in a paper logbook, our digital log reports and data are easy to access by any department.
Accounting can validate invoices, bills, or resolve pay disputes.
HR can get hiring referrals from the field.
When you capture worker profile certifications and licenses, HR can help supervisors and safety managers with employee development.
Compliance, safety and risk reporting becomes a snap.
Your Data Log Report Data is Secure
Safe Site Check In prioritizes digital security using the latest cloud and mobile phone technologies. Most importantly, the data we collect is for your business alone, not sold or used for advertising.
Safety Needs Daily Log Reports
Safe Site Check In has built-in a number of features for safety managers.
Health questions during check in makes safety compliance simple and reduces sick time.
Supervisors can advise visitors during check in of site-specific risks such as:

heat waves,
open trenches,
hazardous materials,
etc.

…and how to mitigate those risks using PPE or other methods.
Safety data sheets are distributed via app and accessible by anyone on the jobsite.
Worker profile data containing certs, licenses, vaccinations and training improves safety planning
Tool talk attendance can be automated.
Safe Site Check In has been used at thousands of sites and performed millions of check ins. We offer a personalized demo showing how easily our product streamlines jobsite and workplace visitor management. Ask for
a demo
today and see just how quick and easy it is to get started.