Safe Site Check In has chosen Google Cloud because it provides a world-class unlimited computational infrastructure as a globally managed service.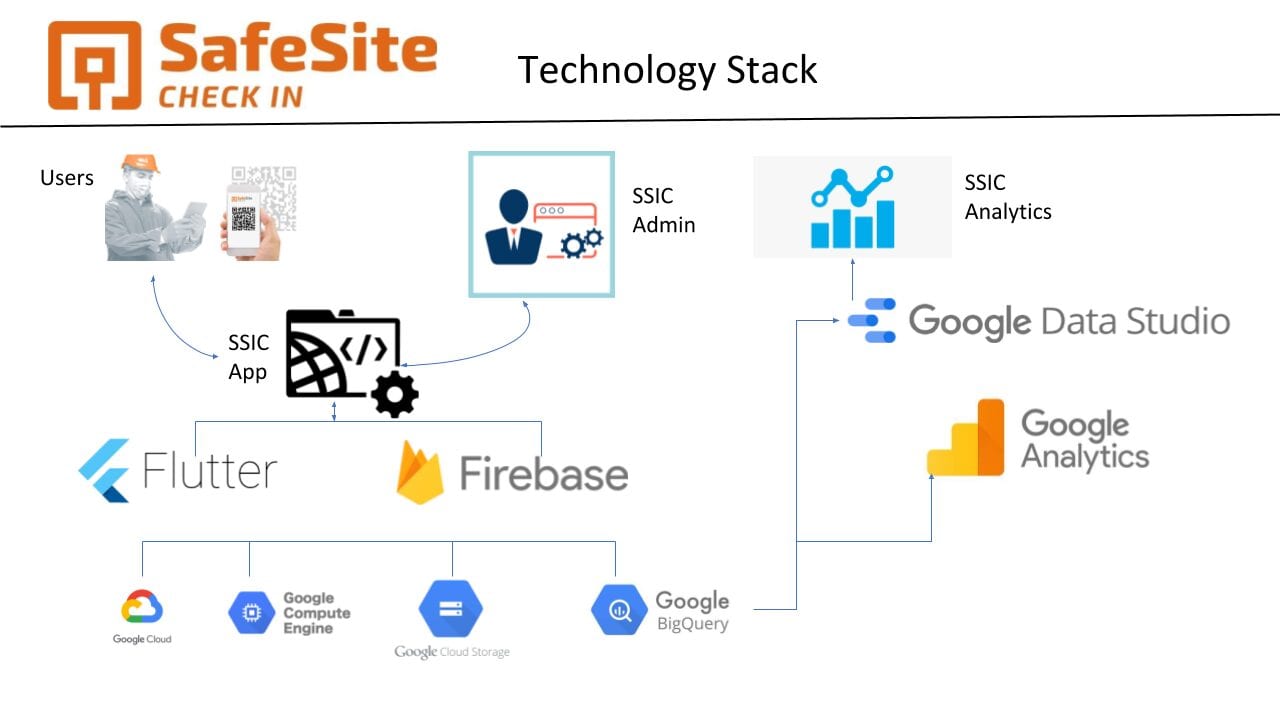 Google Cloud allows us to grow our product features limitlessly without investing our capital and technical resources in computers, networks, database or storage.
In less than six months, Google Cloud has allowed us to grow from zero to over 3,000 check-ins per day with 7×24 availability for work shifts in any time zone. Google Compute Engine and Google Storage to have built-in redundancy that makes data always available and secure from alternation.
The combination of Google Firebase and the open source Flutter framework powers our software development teams' amazing productivity, enabling them to easily add exciting new features every week to our any-device-anywhere web app.  Firebase provides a real-time view of job site data and will soon enable in-app communications between HQ and site users. 
Safe Site Check In creates an entirely new data source for optimizing businesses in Construction, Facilities, Event and other industries.  Google BigQuery, Analytics and Data Studio are key components of our solution to create reports and analyze data for use cases such as:
Project management

Subcontractor management

Cost accounting

HR

Insurance and Risk

Marketing Lead Generation
Google Security and Privacy is the best in the world, protecting your users and data from unauthorized access or exploitation. Because of its global footprint, Google has been in the forefront of supporting new standards such as GDPR compliance.
Google also offers new firms such as ours the ability to quickly add high level features such as analytics, artificial intelligence and natural language processing. 
Google Maps will also play a role in future location-based experiences and features, such as geofencing and site visualization features.
Google Translate is recognized as the best in the world. We use it for our website to  support all major languages, as well as make our web apps multilingual, including our future chat applications.
QR (Quick Response) coding is a long established open standard which is now built into the latest Apple iOS and Google Android mobile operating systems. QR codes have become invaluable during the pandemic because they enable "touchless" access to information via smart phones.  QR codes are central to Safe Site Check In's ease of use and rapid adoption, because no app downloads or pre-registration are required.  if you or your users encounter any difficulties scanning our QR codes, refer to our FAQ page for help, or contact support@safesitecheckin.com.