Digital Badges, Daily Log Automation, ERP Integration Bridges Field and HQ
Portland, OR – August 28, 2023 – Safe Site Check In, a leader in construction management software for jobsite productivity and safety, today announced its new Advanced Edition making jobsite management even more productive, safer and secure:
Project onboarding: Onboard all workers – employees, subcontractors, visitors. Create a personal QR badge for phone or print. Capture worker identity, licenses, certs, employer, etc.
Badge scanning: Workers check-in and out ever faster using any tablet or phone, with or without screening questions. Use phones or printed QR badges and tablets. Just like boarding an airplane with access controls.
Visitor onboarding: Visitors can still scan jobsite posters, agree to jobsite waivers, view safety training, receive a badge, and notify supers – all self-service.
Daily log automation: Manpower and visitor data is captured and securely cloud stored. Weekly jobsite reports distributed via email, reports available 7×24. Validate wage, invoice, and insurance claims.
Integration with Construction Management Platforms: Best and fastest way to lower Procore and Autodesk Build operating costs. No more manual keying of manpower, visitor and observation data. Save a full FTE or more and reduce bid overhead on every sizable project.
Safety & Security enhanced: Verify attendance, confirm safety requirements, record tool talk attendance, distribute hazmat data sheets, broadcast to jobsites. Supervisors can verify badges and be notified of any attendance issues.
Easiest Check In For Any Jobsite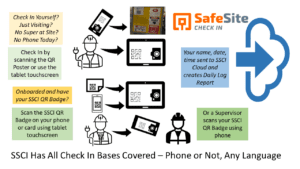 Achieve 100% ROI on Every Project
Safe Site Check In saves field managers hours a day by automating manual, paper-based or neglected jobsite processes. Project onboarding can even be delegated to subcontractors. We've confirmed savings of $2.00 or more per check-in, which, on larger projects, easily saves one or more headcount. And because these costs are typically included in project overhead fees, estimators can offer more competitive bids.
Safe Site Check In also provides HQ departments all the real time jobsite data they need but are missing today:
Leadership and Owners: Real time views of jobsite attendance.
Project Managers: Capture resources and effort against milestones.
Safety Managers: Communicate with the field, confirm safety compliance.
Accounting: Verify hourly payroll and t&m invoices.
HR: Onboard employees and subcontractors with certs, skills and credentials.
Risk: A daily log archive is critical after any incident or claim.
Advance Your Digital Strategy and Be AI-Ready
"We continue to evolve the Safe Site Check In platform based on customer feedback to accelerate construction's digital transformation," said Tom Tortolani, Co-Founder & Head of Product at Safe Site Check In. "Digital badging is a game-changer for all our customers in safety-first industries. Within construction, we are especially seeing increased demand when they use Procore or Autodesk Build as the foundation of their digital strategy."
"Lean, agile collaboration with our customers means we deliver the greatest business value for the price of any jobsite management solution", said David Brian Ward, CEO. "Our new badging and onboarding features are accelerating adoption by larger ground-up projects every day. More workers mean more savings when you use Safe Site Check In. And our jobsite attendance data will be essential for tomorrow's AI productivity gains for project and safety managers in any hard hat industry."
Safe Site Check In is also announcing pricing changes for its compliance data storage, and will now offer fixed price discounts when customers commit to an entire project from inception. As before, our Standard Edition provides essential basics, while the Advanced Edition meets the needs of even the most advanced and complex project jobsites. As always, the more project sites, the greater your discounts. Most customers will achieve full payback and ROI on their very first project.
About Safe Site Check In
Jobsite data is the missing link in every contractor's digital strategy to bridge field operations and HQ. SSCI launched in 2020 as a pandemic solution but quickly grew into an essential jobsite management tool for hard hat industries. Trusted by hundreds of customers across thousands of projects and hundreds of thousands of workers, we've performed millions of check-ins across the US, Canada, UK and Australia with 100% uptime, privacy, and security. No apps to download or install. No IT support required. Multi-lingual. And no solution is more affordable than Safe Site Check In, a Procore and Autodesk marketplace partner.
Contact:
David Brian Ward, CEO
Make Jobsite Management Easy(™)
david.ward@safesitecheckin.com
971.236.2975