Safe Site Check In Keeps Construction Sites Open While Curbing Spread of COVID-19 on Job Sites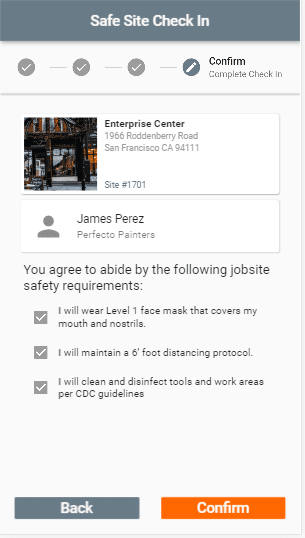 Using a new, touchless technology from San Francisco startup Safe Site Check In, more than 67 construction sites, including 50 throughout San Francisco, are safely moving forward with commercial construction projects while helping stop the spread of COVID-19. These projects include San Francisco's iconic Frankie's Java House and Oakland City Center, along with sites in Connecticut, Pennsylvania, Texas, Colorado, and Louisiana.
Launched in June 2020, Safe Site Check In takes sophisticated technology and makes it easy for anybody to use. Employees simply point their smartphone at a unique QR-coded poster hanging at a job site or lobby, securely answer COVID-19 related health questions, and immediately receive notification on whether they're approved or denied access to a site. All health information is kept on the user's phone. The health records are not stored, yet job site supervisors are immediately alerted when a person is denied access.
Read the story on For Construction Pros