Academic studies and local health authorities find more outbreaks in construction than commonly thought.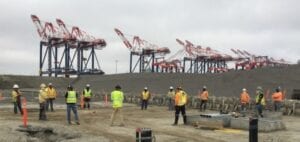 Conventional wisdom suggests construction has done relatively well combating the spread of COVID-19 on U.S. jobsites.
While there have been outbreaks at high-profile projects such as Allegiant Stadium in Las Vegas and as many as 13 San Francisco Bay Area jobsites, the industry as a whole hasn't drawn attention for the debilitating scourges that have made news in healthcare, nursing homes and the meatpacking industry.
"Our industry has not suffered the kind of widespread workplace outbreaks that have hobbled so many other sectors of the economy," wrote Stephen Sandherr, CEO of the Associated General Contractors trade association in a letter to members earlier this month, encouraging firms to stay vigilant against COVID-19 amid a recent surge of more than 160,000 new daily cases across the country.
But now, academic studies, an increasing amount of local public health data and anecdotal media reports are calling into question construction's clean bill of health on COVID-19 mitigation.
Read the full story featuring Safe Site Check In on Construction Dive