Safe Site Check In Launches Jobsite Observations to Boost Productivity and Safety
Automated Daily Log Reports and Advanced Integration with Procore Accelerates Construction's Digital Transformation
San Francisco – February 7, 2023 – Safe Site Check In, a leader in construction jobsite management software, today announced new features designed to make jobsites more productive and safer. Using the new Jobsite Observations feature, supervisors, workers, subcontractors and visitors can include notes, photos, videos, and attachments to document jobsite conditions and progress. This provides contractors and project owners with accurate, real-time updates for project management, forecasting and strategic planning.
Additionally, Safe Site Check In's construction jobsite observations and automated daily log information can be easily added to construction project management platforms including Procore Daily Log Notes. This way, general contractors have a consistent and complete view of the progress of each job, saving supervisor's time, and realize cost savings of $2.50 per check in.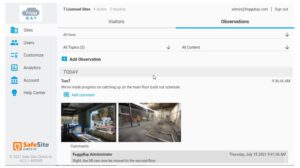 The Safe Site Check In app is used by hundreds of general contractors to digitally transform the jobsite sign in process for workers and subcontractors. Using the QR-code check in app, project managers always know who was on site, what they did and when they signed in and out of the jobsite. This eliminates the time consuming and dated process of signing in using paper and pen. Through the private check-in process, workers can also verify certifications and licenses, vaccinations, sign waivers, and document training. This information can be used to streamline admin, ensure compliance, and protect workers and general contractors in the event of an accident. Additionally, the daily check in data can be used to automatically fill out the daily report.
"We continue to evolve the Safe Site Check In platform based on customer feedback and our own analysis of how to accelerate construction's digital transformation," said David Ward, CEO, Safe Site Check In. "With these new observations and further integration with Procore, we're confident Safe Site Check In will become as ubiquitous as hammers on jobsites."
About Safe Site Check In
Safe Site Check In provides a customizable and private QR-coded digital check in and screening app, data and analytics. Safe Site Check In is used in construction, manufacturing, commercial real estate, assisted living facilities, and event venues to manage workers, subcontractors and visitors. With setup in under three minutes, project managers always know who is or was onsite and can easily delegate assignments, onboard employees, upload site images, and support compliance with local and state mandates. As a standalone offering or integrated into a project management solution like Procore, Safe Site Check In provides insight on project profitability and productivity to positively impact a company's bottom line.